Rohde & Schwarz bietet neue, vom FiRa Consortium validierte UWB-Testlösung für Konformitätstests der Bitübertragungsschicht (PHY)
Mon, 27 Jun 2022 09:00:00 +0200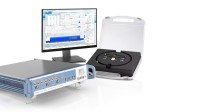 Mit einer neuen Ultra-Wideband-PHY-Testsuite für den R&S CMP200 Radio Communication Tester bietet Rohde & Schwarz jetzt ein PHY Conformance Test Tool (PCTT) an, das Konformitätstests der UWB-Bitübertragungsschicht gemäß den Spezifikationen des FiRa Consortium unterstützt.
---
Other current blog posts of the organization
Jobs of ipoque GmbH
ipoque GmbH
ipoque ist ein Tochterunternehmen von Rohde & Schwarz und ein globaler Marktführer im Bereich Netzwerkanalyse-Software. Als langjährige Experten schaffen wir Lösungen, mit denen unsere Kunden aus Daten wertvolle Erkenntnisse gewinnen.
Als Rohde & Schwarz-Tochter profitieren wir von Synergien, ohne dabei die Agilität eines unabhängigen, dynamischen Unternehmens einzubüßen.
Unser Versprechen
Makrotrends wie Big Data, künstliche Intelligenz und 5G verändern den Markt. Dadurch entstehen enorme Datenmengen, durch die es immer schwieriger wird, den Überblick zu behalten und sinnvolle Schlüsse aus den Daten zu ziehen. Unsere maßgeschneiderten Analyselösungen sammeln, strukturieren und werten diese Daten aus, um den Netzwerkverkehr umfassend sichtbar zu machen. Diese Lösungen ermöglichen es, Netzwerke effizient zu managen und höchste Konnektivität und Sicherheit zu gewährleisten.
Mit kundenspezifischen Lösungen und modularen Konzepten können vorhandene Lösungen im Bereich Netzwerkanalyse und -monitoring gezielt an die stetig wachsende Zahl neuer Kommunikationsstandards angepasst werden.
Wir fühlen uns unseren Kunden gegenüber verpflichtet, die neuesten Technologien in unsere Produkte zu integrieren. Unsere Produkte haben offene Schnittstellen (APIs) und vermeiden ein Vendor-Lock-in. So tragen wir zum Erfolg unserer Kunden in einer sich stetig verändernden digitalen Welt bei.
Unsere Lösungen zeichnen sich durch hervorragende Leistung, Effizienz und Skalierbarkeit aus. Wir bieten umfassenden Service – vom technischen Onsite-Support über Softwareintegration bis hin zu Kundentrainings. Dank dieses umfangreichen, ausgewogenen Portfolios können wir sowohl kleine als auch sehr große Projekte durchführen.
Weitere Informationen finden Sie unter www.ipoque.com